When I started quizzing Ross about his Christmas traditions and he looked bemused, I realised perhaps our family is a bit deranged. My mum has been known to call me in September and discuss Christmas table colour themes and a couple of years ago I managed to completely Christmas myself out by buying and wrapping all the presents before October half term. We have all sorts of mad rituals and I love them all, especially the new pjs under the tree on Christmas Eve as a special early present.
So it was with huge glee (me and the six year olds), slight suspicion (the eight year old) and varying levels of reluctance (Ross and the 12 and ten year olds) that we visited Santa's Grotto this weekend. But when we peeked into the magical room and saw THIS everyone was amazed, even they cynical big ones.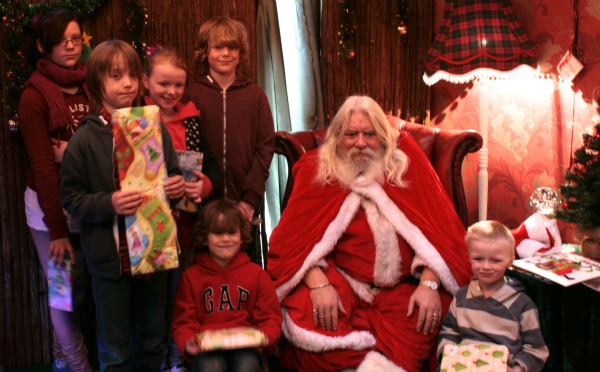 Actual Santa. The real Father Christmas. With a REAL beard and actual white hair and everything. And pretty impressive jewellery.
Anyway I couldn't help noticing that there seems to be a letter from a certain ten year old tucked into the little bag on the mantlepiece, so I think visiting Santa is one tradition we'll be keeping up for a while to come.
This is our first Christmas as a family of eight, so we're making things up as we go along. If you have a family tradition you'd like to share in the comments, I'd love to hear!