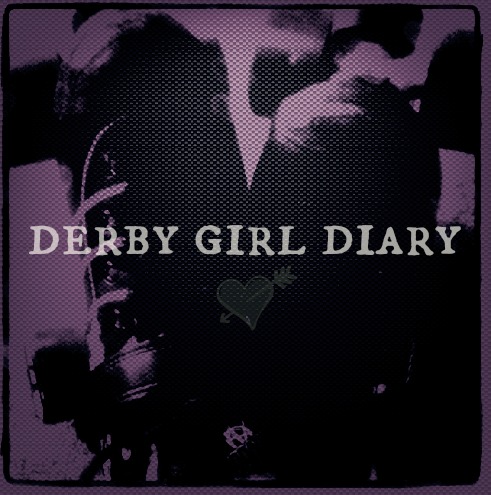 I started skating when I was living in Australia, aged 8. I skated all the way through my time there, and took my skating mania home to our new life in Scotland. We spent years hurtling round the block with a stopwatch – I was hopeless at PE at school, but I could skate, and fast. As teenagers we hung out at the late, lamented Coasters arena in Falkirk, where we skated around listening to Kylie Minogue and tried to look cool. It was a standing joke that I'd suffer the worst falls and get up, laughing, and keep going. It's a pretty good way of approaching life, really.
Yesterday I turned up for my first Liverpool Roller Birds training session with my friend Vic. First we drove straight past the (completely unmissable, gigantic, signposted) training hall and asked a man with a dog where we could find it (he was very kind and didn't say DUH once as he pointed to the completely unmissable, gigantic, signposted hall right behind us). Then we got in and I realised my legs were shaking so much I couldn't actually concentrate on anything else.
Sitting in the changing room was a bit like being at school, crossed with being backstage at a concert. The big girls (fully fledged Roller Birds) looked supercool and like the girls in sixth form we all admired. Scary stuff.
We got out into the hall and ooh, torture. Running up and down. Sidestepping up and down. Planks. Bridges. Planks again. Bridges. Oh dear these leggings are a bit seethrough. Bugger. Kit on. Kit check – legs trembling with nerves. And then we were off.
That's when it all made sense, because skating's a bit like riding a bike (except with more wheels and you don't get to sit down and – okay, I'm going to stop now). But ooh, learning to do knee falls was ace. And learning to do double knee falls was even better. And realising that I was sweating like mad and out of breath and hadn't even noticed, because derby is a really good workout but you're having too much fun to notice was amazing.
I could go on and on – but apparently boring your friends to death about derby is a recognised thing, so I'll shut up now and leave you with two things. Or three.
Thing one: the big scary sixth form Roller Birds? They're friendly and funny and kind and really welcoming.
Thing two: one session and I felt empowered and positive and GRRRRRWOOOOARRRRGH. It's already had an effect on my outside life. I love that.
Thing three: showing my children strong, fast, powerful women playing a game where they work together and empower each other? That's a pretty positive message for them to grow up with.
If you'd like to find out more about derby, have a look at this.
Now if you'll excuse me, I'm off for another hot bath.