5 Tips For A Cozier Garden
Now that spring is here everyone's focus is on getting outside and getting the garden in order. Okay, maybe not everyone, but anyone who typically enjoys a spring and summer garden ought to be in that mindset by now. You know the drill: heading to the closest gardening center for a few new seeds for a few of the best spring and summer flowers, planting and taking care of those seeds, and otherwise grooming and re-organizing the garden. It's a task and a hobby all at once.
There are always fun ways to upgrade the gardening experience though, so that it's not the same old thing every year. For example, this year one fun project can be to make your garden a bit more accessible. You don't exactly have to pave a sidewalk from the driveway into the heart of the garden – but here are a few things you can do to make your garden a more appealing place not just to plant and look at, but to spend some time.
Tip 1: Arrange a path or two. I already said you shouldn't pave a sidewalk in your garden, and truth be told nothing could make it less attractive. But a more tasteful path simply gives you a way to walk in and among your plants more easily. This might mean laying down stones, or even using some new MySmartBuy hedge clippers to make a maze-like path through shrubs and bushes. Really, it all depends on the size and arrangement of your garden.
Tip 2: Invite the birds. Some people prefer that birds stay out of their gardens, because they think birds are messy or loud. Really, this is a silly perspective. The truth is, birds eliminate pests in gardens, keeping your plants neat and healthy, and they also provide a fun natural vibe that nothing else quite can. A trickling birdbath or hanging bird feeder should do the trick, and bring you a few atmospherically friendly chirping friends.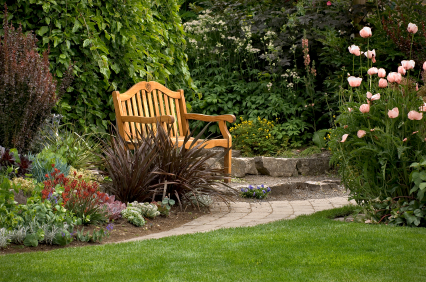 Tip 3: Make it smell nice. Your first thought might be: duh, plant a few roses and the problem is solved! And this is certainly one solution. But think about getting creative with garden smells – even something simple and green, like mint leaves or cilantro plants can give the place a pleasant scent.
Tip 4: Think about props. Too many garden props can be a bit gimmicky, but a waist-high statue here or there can work wonders for atmosphere.The same way art in the house makes a room feel more comfortable, garden props can make your garden a bit more accessible.
Tip 5: Think about furniture. Going beyond props, nothing invites a human presence quite like a nice garden bench – or, if you really want to branch out, a gazebo (maybe with ivy crawling up its pillars). These features give you and your family or guests places to lounge in your garden, so you can actually enjoy it instead of just planting it!