I've slept outside once in forty years. I always swore I'd never camp, because despite being a grubby-handed gardener and a mud-encrusted pony mad teenager, I rather like the luxury of a posh hotel.
When my friend Polly and I camped outside by a peat fire (it was before we knew it was A Bad Thing) under a tree on her farm, we settled down in sleeping bags onto distinctly lumpy ground. Lanarkshire nights, even midsummer, are pretty chilly, and our one night only camping experience was enough to put me off for 26 years.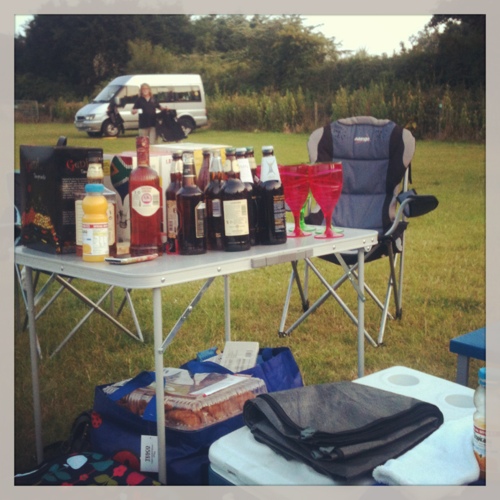 Our trip this weekend was a bit more like it. Staying with friends, who were kind enough to ferry us to the farm campsite, and then provide us with a tent, we didn't have much to do the first night but giggle at the amount of beer and wine we'd all brought…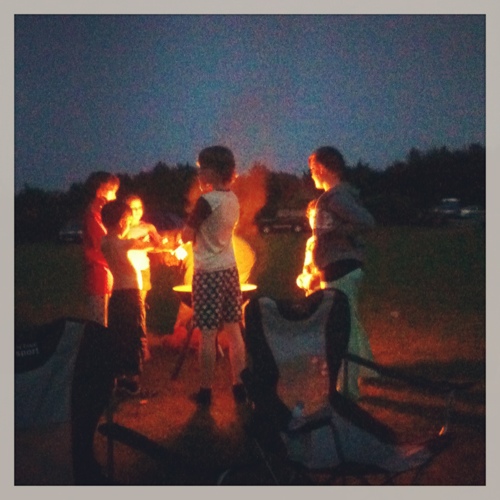 The children learned how best to light the firepit, thanks to our friendly scout leader co-camper.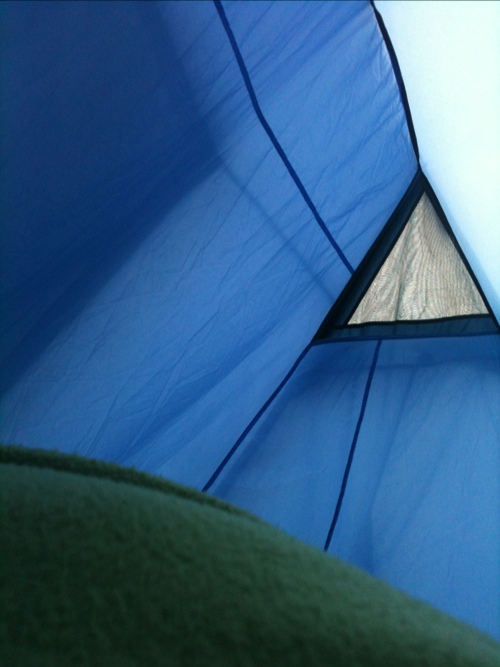 As usual, I was up with the sunrise – this view was the one that greeted me after a (surprisingly comfy) night on an air bed. If you're a morning person, you'll appreciate how blissful it was to get up and sit in the dew drenched sunlit field for a meditative three and a half minutes of peace, before my eldest and youngest (genetically blessed with my early rising habits) joined me. We then went on a little adventure to the farm shop which sold 6am vending machine coffee (any coffee is heaven at six) and foraged for shortbread biscuits and Orangina in the picnic box.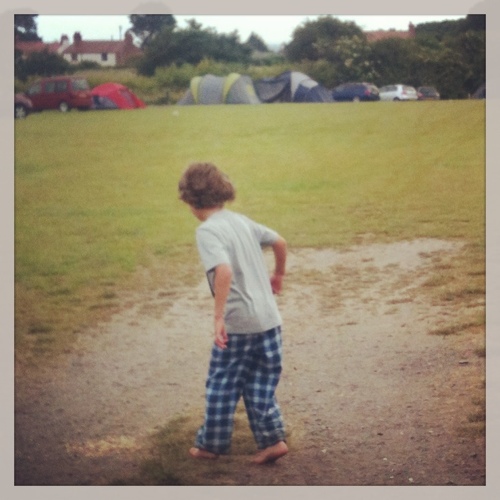 Fortunately this sated the appetite of smallest (pictured above, stumping back to our tent the following morning). He'd been quite disappointed to discover we wouldn't be killing and eating our own food. We've been watching a bit too much Bear Grylls round our house, y'see.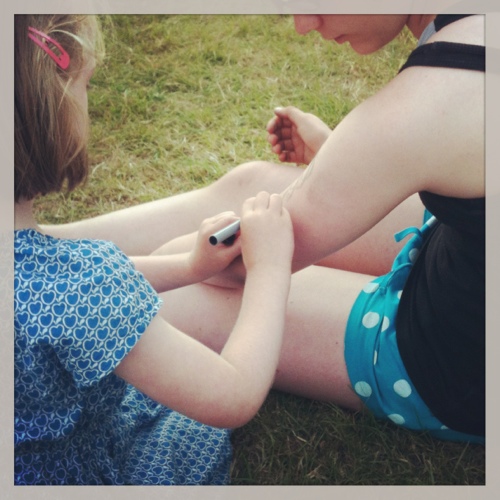 There was nothing to do (although I don't think we heard "I'm bored" once) so they busied themselves with adventuring, an epic eight hour water fight, and a tattoo parlour. Only one trip to A&E, which isn't bad for our combined children (all fine now) and they pronounced it a huge hit.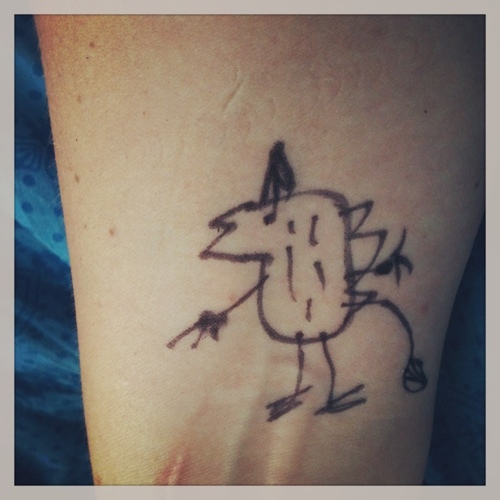 I think my monster tattoo, created by the very clever five year old B, was the best one ever.
Came home with bags full of filthy, smokey, soggy washing and exhausted children. I'm so tired I can barely speak. My just-out-of-cast ankle is agony today and everything aches. Can't wait to do it all again, though… I think we've caught the bug!