Julia Williams is one of eight children and a mother of four. She also ran the London Marathon a few years ago, so we have quite a bit in common. However, Julia is a published author of several books, which is where we part company (sadly!).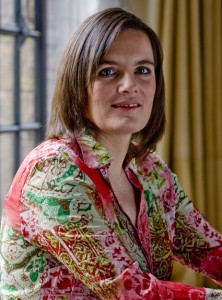 Her latest novel The Bridesmaid Pact
came out this month and I caught up with her to find out how she manages to fit in writing, motherhood, blogging and falling in love with her romantic heroes.

The Bridesmaid Pact
is a story of friendship: do you have friendships that go back a long way, and did they inspire the novel?
Yes I do. I've known my oldest friend since I was five – we met on the first day of school, like Caz and Sarah. I've thanked most of them in the acknowledgements (I am a bit diva like about my acknowledgements it has to be said (-:), and am now worrying I've forgotten someone! In my teens I had a very close quartet of friends (including my twin sister) and we used to call ourselves the Fab Four, which I appropriated for Dorrie and her friends. I have been really really lucky with my friends over the years, but we're all a bit farflung these days, and busy with families, so mostly it's communications at Christmas. I'm hoping I can change that as my children grow up…
The friends I see on a regular basis are my school mum chums, who are a great support and have helped me stay sane over the past few years. I wanted to celebrate some of that strong domestic bond women share with one another, particularly when they have children, which was part of the inspiration for writing the book.
You always like to have a soundtrack for your books – when you're writing, do you listen to music, or do you just use it to set the mood?
I do a bit of both. The soundtrack can come a long time before I start writing – often it's the feeling a particular song gives me that sets me off in the first place. For example, my first novel, Pastures New, was kick started by Forever Autumn by Justin Hayward – it's such a haunting song of love and loss, and it seemed to fit my heroine, Amy, who has been widowed young, perfectly. In Pastures New, I tried to reflect the lyrics of the songs I chose in the story, but I abandoned this in the next book, as it's too difficult!
Now I choose songs which have big emotional heart and make me shiver inside for key emotional moments of the story, as well as having theme tunes for each of my characters. In Strictly Love, I used Feel by Robbie Williams for one of my characters, Rob's, theme tune, and it ended up helping me uncover the kind of person Rob was. He started off as a happy go lucky kind of bloke but ended up much deeper.
In Last Christmas, I chose Neil Diamond's Pretty Amazing Grace as my soul searching song, and in The Bridesmaid's Pact it was Hurt by Johnny Cash, which is MINDBLOWING.
When I've chosen my songs I tend to listen to them over and over again, particularly before I'm writing a relevant scene – in Strictly Love, I even used Body Talk to choreograph a dance scene. That was hilarious. I sat on a wintry day in November, on my own in my office, tracing out dance steps, while I played it on You Tube. Sometimes being a writer does take you to some strange places!
I tend to think of the songs I choose as being like the soundtrack to a movie, and in my head, I see a scene as I write, with the music playing over it. I have spent a long time looking at the music they use in my two favourite tv shows, Being Human, and Ashes to Ashes, because the choices are usually so clever and relevant.
I'm currently working out the soundtrack for my latest book. At the moment it includes: This Ain't A Love Song by Scouting for Girls (my eldest daughter will be so proud!) as a theme song for my heroine, Wicked Game, by Chris Isaak Ruby by Kaiser Chiefs (SUCH a romantic song), Heartache by Abba, Inside by Stiltskin, and hearing some Bon Jovi the other day I realised I must include some, though not sure what yet. I haven't quite fixed on my soulful heartfelt song, but My Lady D'arbanville by Cat Stevens is a pretty hot contender at the moment.
As a mother of four, how do you organise your writing time? Are you disciplined about your work, or a last-minute person?
Aaagh!! I wish I could say I was hyper organised. But I'm not. I used to be when I had a clear frame to my day, but now I tend to potter and do bits and pieces of everything. For example, today, I have done some washing, tidied my office, written a pr piece, and answered your questions. I have an hour and a half to go before school pick up and I still haven't done everything I want to. I just muddle along and somehow it comes together. I have discovered that I tend to do a lot of thinking before I write, and then when I get going I write like a mad thing to hit my deadline (or not, as happened last time…)
Julia, you're a blogger as well as an author. Do you find your blog helps you to get into a writing frame of mind, or is it an escape for you?
When I was first writing, before I was published, my blog was a vital kick start to my writing. If I couldn't find time to write my book (my children were then very young), I used to use each blog piece as a writing exercise, like flexing a muscle, which I found enormously helpful. I don't need to do that anymore, so my blog mainly is a place to hang out and have rants about things that annoy me, plus having a lot of laughs with like minded people about tv (mainly Dr Who) I enjoy. Oh and of course, it's a great place to promote my books, although I actually hate that side of things, as I don't like being pushy.
Do you fall for the men in your books? (I know that I'm not the only one who had a major crush on Gabriel in Last Christmas
!)
Oh God, yes. If I'm not in love with them, why would my readers be? I do have an exceptionally soft spot for Gabriel (glad you liked him!). Not only have I deliberately referenced Gabriel Oak from Far From the Madding Crowd (my all time fictional hero), I also drew a certain amount of inspiration (ahem!) from one Richard Armitage. I was thrilled therefore to discover, that RA actually quotes Gabriel Oak at Dawn French when they get married in The Vicar of Dibley. I hadn't realised that before.
I also adore Dorrie's husband in The Bridesmaid Pact. He's a bit dippy and obsessive about cleanliness (I got the idea for him from my husband who had attended a course on microbiology and came home paranoid about germs – I thought it would be funny to have a character who was constantly cleaning his hands), but he's loyal and true and all the things you want in a hero. I'm also a big fan of Charlie. I wouldn't have said no…
I think all my heroes share some of the characteristics I love in my husband: straightforwardness, loyalty, being honourable, sensitivity, etc, but I try to give them flaws as well. The hero I am currently working with has some major ones, oh yes, he does…
Oh, hooray, so you've already started work on your next book then?
Yes my next novel is due to come out this time next year, so I am working on it already. I haven't fixed on a title, but it is featuring gardens, specifically a knot garden, which is being restored. For the first time I am doing some historical writing, as I am weaving the story of how the garden was created, with its modern day restoration, which is great as I love history, but totally unnerving as I don't want to cock it up.
However, I have recently been doing some family research, and a story in my own family history has been a great inspiration for the story of Edward and Lily, who are the original creators of the garden. Be warned though, their story is going to be a weepy!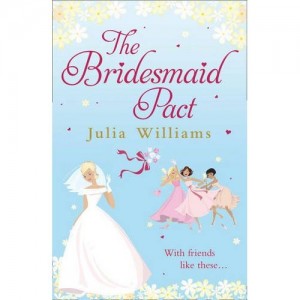 Julia Williams has kindly offered to dedicate a copy of The Bridesmaid Pact to one of my readers. Just leave a comment, and I'll use random.org to choose a winner next Wednesday, June 16th. I'm happy to post internationally!