(Or, The One Where Rachael Listens To the Archers and Ends Up A Page Three Girl)
So, last night was the 60th anniversary of that British institution, The Archers. I've been a fan since I was ten and my friend Polly's family introduced me to the delights of the village of Ambridge. Since then I've listened on and off for most of my life. There was much excitement here in our English village, as we all sat round the wireless waiting with bated breath to hear what would happen.
Actually, that's a lie. It was just me, in the kitchen, with a stiff drink and the radio. We'd been promised an episode which would 'shake Ambridge to the core' and the Archers lovers on Twitter were gathered, all tuned to Radio 4 and chatting nerdily to each other.
I said this: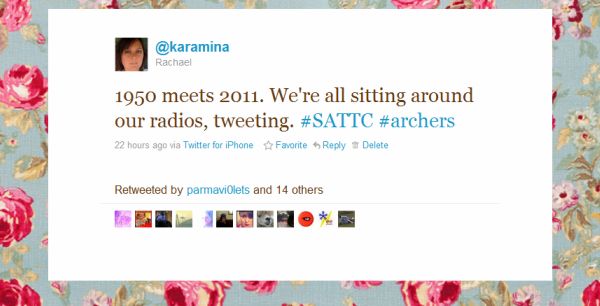 and it was retweeted (which for non twits amongst you means that she liked it and sent it onwards) by one of my writing idols, India Knight. Look!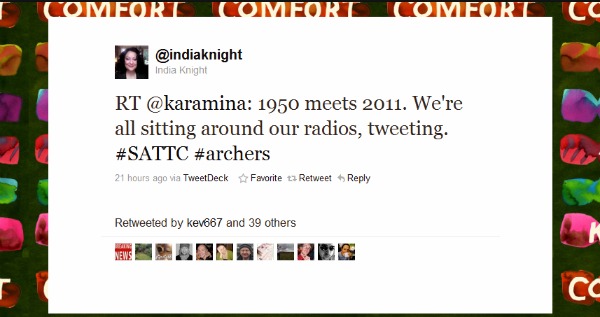 which was rather exciting in itself because I have a bit of a public schoolgirl pash on her. Hurrah.
But then look what happened this morning.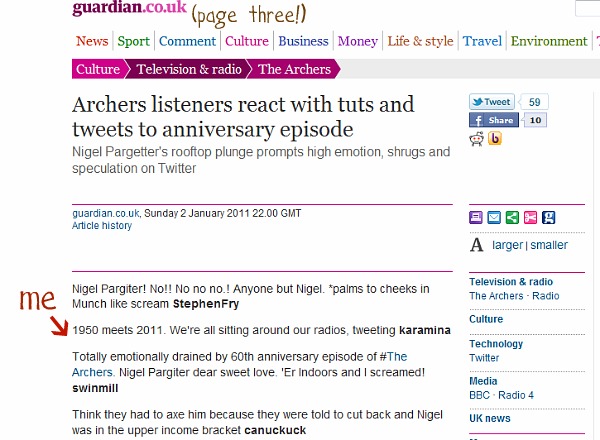 Yes that's me being quoted, alongside Stephen Fry. And in the print edition I was there on page three. So the episode (which was a bit of a damp squib, although not if you were Nigel Pargetter) may not have shaken Ambridge to the core, but it was a bit exciting round these parts.