The first Jilly Cooper book I read was Riders. I was twelve. That's a bit worrying, really. I found it at an aunt's house whilst we were visiting and I spent the whole week we were visiting reading in the bedroom, shoving it under the pillow and picking up Jill's Gymkhana whenever I heard footsteps.
I think I skimmed over the pervy bits, really – all I remember is the breathless excitement as Rupert Campbell-Black won a medal and feeling sorry for poor Tory when her dog was killed. My real love affair was with Rivals, which is still my favourite of Jilly's books. Gorgeous Declan O'Hara and his love of W.B. Yeats (oh, the romance when I went to university in Northern Ireland and studied Anglo-Irish Literature). Feckless Maud, with her fox-red hair, who took forever to unpack because she kept reading bits of the newspaper as she unwrapped the crockery. There are a tremendous number of Jilly characters with hair the colour of drenched fox – Maud, Helen, Georgie and her rival Julia, and naughty viola playing Flora, who has an affaire (much more exciting than a common or garden affair) with the evil Rannaldini. I never quite got the whole Rannaldini thing – is there anyone out there who thought 'phwoar'? Maybe I'm missing something.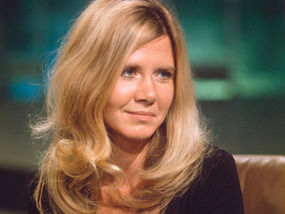 That's Jilly in the 70s – I always suspected that Janey Lloyd-Foxe, the unprincipled journalist with a 'mane of tawny hair' was Jilly's naughty side, and this photo looks just how I've always imagined Janey.
Ooh, and then there's Caitlin's love affair with Archie Baddingham (yes, I did name my first son after a Jilly Cooper character, and in fact my daughter was very nearly Tabitha after Rupert's daughter). Cameron Cook in her suede dress, slit at the sides and reeking (Jilly's characters always reek) of Fracas, the naughty-girl perfume. Gorgeous Patrick O'Hara. Oh, swoon. This is all a bit inarticulate, isn't it? Hermione cantering naked around the indoor school with Rannaldini cracking a lunge whip and Lysander noting that she's on the wrong leg (those pony stories again). It is utterly, gloriously bonkers and completely impossible to put into words. What's wonderful about Jilly's writing is that she does all that, but her observations of nature and descriptions of animals are so tender and accurate. If you've ever read her collection of diaries, The Common Years, which is probably one of my favourites (and yet isn't in my comfort reading post, because I am forgetful and fickle and have millions of favourites) you can see that the diaries she kept have informed her writing. It's a beautiful book.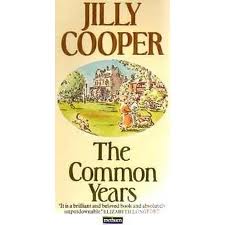 Another of the Rutshire Chronicles, The Man Who Made Husbands Jealous, has heavenly Lysander, and Boris and his love of red wine, red meat and red-blooded women, and the amazing ability of Jilly's heroines to lose a stone in a week through pining (never happens to me, grumble grumble). Detective Inspector Gablecross – the only policeman in Rutshire. Smooth James Benson, the private GP who arrives whenever required. But the best bit of all? Lovely, cloudy-haired (I suspect she could do with with some Frizz Ease serum) Taggie falling in love with Roopurt Cambel-Blak, and Rupert trying to resist her because he's too old and bad and horrible for her. If you haven't read Rivals, you must – The New Year's Eve party is heaven, too. Nobody throws a party like a Jilly Cooper character.
(If you're a Jilly lover, have a look at this. I guarantee you'll giggle. I think Jilly would, too, if she read it.)