I went on Facebook just now and saw this.

And I started to write.
What's on my mind Facebook…
Is that I've been up since 5am. I've had a million and one tweets of congratulation from blogging friends and famous writers and people I've met along the way.
I've featured in newspapers and online interviews and in blog posts.
At lunchtime Amazon had already sold out of their stocks of the paperback of Sealed with a Kiss and they've ordered in more.
I've jumped 176,200 places in their paperback chart since yesterday and that's amazing.
I had a long thinking sort of shower and the characters for my NEXT book, the one that isn't even due until next year, were talking in my head because they're desperate to get out.
I went to the bookshop and they looked at me blankly and didn't have any copies ordered.
I felt a bit deflated and we went for coffee and to do the school run (because all that stuff still goes on)
Then I saw this photo my mum had sent – from Waterstones in Milton Keynes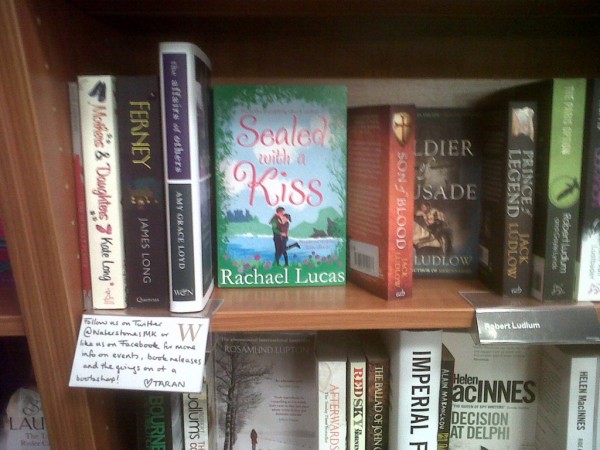 And that's MY BOOK on a bookshelf. And I felt amazing.
And then I read a text from my mum which told me she was proud of me, and that my dad would be too. And I cried, in the school car park, in the rain.
And then lovely Waterstones at the Trafford Centre told us on Twitter that they've got copies and they'd love me to sign some and I felt like A Real Writer for a moment.
And people keep asking how does it feel. And the answer is it feels amazing and terrifying and scary and wonderful and exhausting.
And tomorrow I'll get up and go and sign some books, and then I'll get on with writing my book.
And that, Facebook, is what's on my mind. A bit much for a status update, really, but it's been a bit of a day.
You can order Sealed with a Kiss here and have it delivered to your local indie bookshop.
You can buy Sealed with a Kiss here for Kindle or in paperback
You can click and collect Sealed with a Kiss at Waterstones here
I don't mind how you do it really – but I hope you like it.