Rachel Vale, the brilliant artist behind the cover design for the State of Grace, has written a blog post for me (I like this delegation lark – I should have been off having a painting day in exchange, but in fact I've been gardening) about the thought processes that led to the gorgeous cover…

The cover for The State of Grace was a really great project to work on. As with all cover designs I kicked things off by reading the book – I absolutely loved it! We follow Grace, a teenage girl with Asperger's, and see how she deals with everything life throws at her. It's written with great humour, which I wanted to reflect within the design as well as sympathetically referencing Asperger's. The story also raised questions for me over what is 'normal'? A lot of the emotions, anxieties and questions Grace deals with feel relevant to absolutely everyone with regards to whether we 'fit-in'.
So book read and notes made (my keyword list included cat, Doctor Who, pattern, horse . . .), I generated some typography. I knew immediately what I wanted this part of the cover to look like. I can't quite explain why – sometimes it will take a few attempts and I'll be working on the typography and image together so that they evolve as one creation. But even without any imagery, I already knew that this had to be big, bold and simple, and to look hand-drawn, therefore giving it a human element.
Typography done, I hit Google and Pinterest for research and image-collection. I wanted to find out more about Asperger's, and if there was anything visual I could generate that may nod to the syndrome, along with finding a voice for Grace.
Repetitive pattern of behaviour and interests came up quite a lot. So a sort of repeat pattern felt like something I could definitely work with. I generated numerous ideas that included various themes. Some were better than others (as is often the way), but what they all seemed to be lacking was Grace. I needed to revisit her and her journey.
Grace experiences emotions around many different relationships, with her mum, sister, best friend and love interest. A lot of these are conducted to some degree via texting – something we all do and can all relate to. I use emoticons nearly as much as I use actual words whilst texting these days, so a visual take on that felt like something that could appeal to all. For me this idea felt like it relied on simplicity however, so the almost 3D nature of emoticons on modern mobile phones felt too complex – it was the emotion element that I needed, not a fancy rendered graphic.
Using a more 'old skool' approach of keyboard characters (brackets and semicolons, etc.) contained in a circle to resemble more recent emoticons felt much more like the right route. A smiley face for the main pattern made me think of Grace immediately. Grace is happy – she's just a little confused sometimes, so a confused emoticon felt like the perfect way to suggest not fitting in. The change between the two emoticons is subtle (a closed bracket vs a forward slash depicting the mouth), which is perfect, as changes in human emotions can also be so subtle and difficult to read. Obviously I didn't want this to be so hard to read that it was missed altogether though, so I highlighted it in a different colour. The typography from a couple of months earlier sat perfectly atop my pattern – it's always nice when these things come together.
Some of the best book covers for me are the ones that don't try too hard. They rely on a simple and clean concept, and the more you add means the less you actually say. For me The State of Grace does just that. At a quick glance you get it – well, I hope you do! I've a copy on the shelf next to my desk, and every time I catch a glimpse of it it makes me smile. I hope it does the same for you. 🙂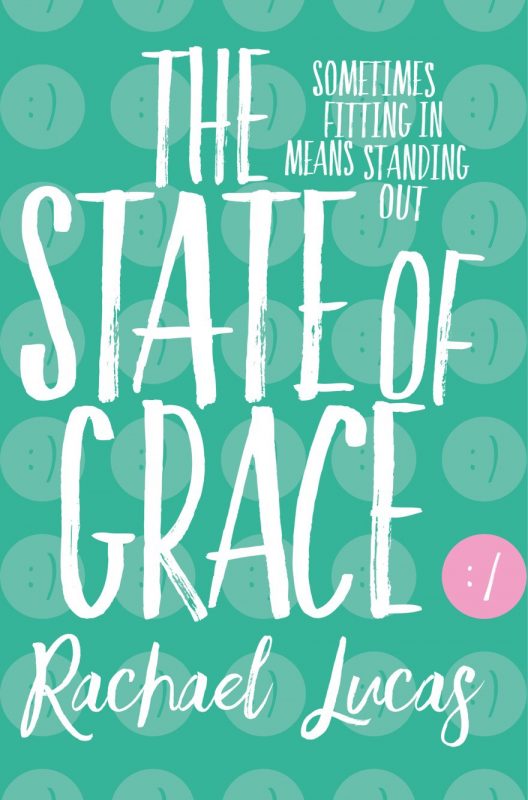 The State of Grace is published by Macmillan Children's Books on the 6th of April.
Whip-smart, hilarious and unapologetically honest, The State of Grace is a heart-warming story of one girl trying to work out where she fits in, and whether she even wants to.
A sweetly funny look at first love, family and faking it told from the perspective of a heroine with Asperger's and her own particular way of looking at the world. (Red Magazine Online)
This brilliant coming of age novel for young adults is set to become a classic. (AGA Magazine)
Buy here: