It was two years ago that I started writing The Horse Book. The weather was wet and wild and wintry. I made my desk beautiful (you may notice a theme here, if you've been following along on my #BEDN* adventures) and sat down with a pencil. Not to write, but to draw.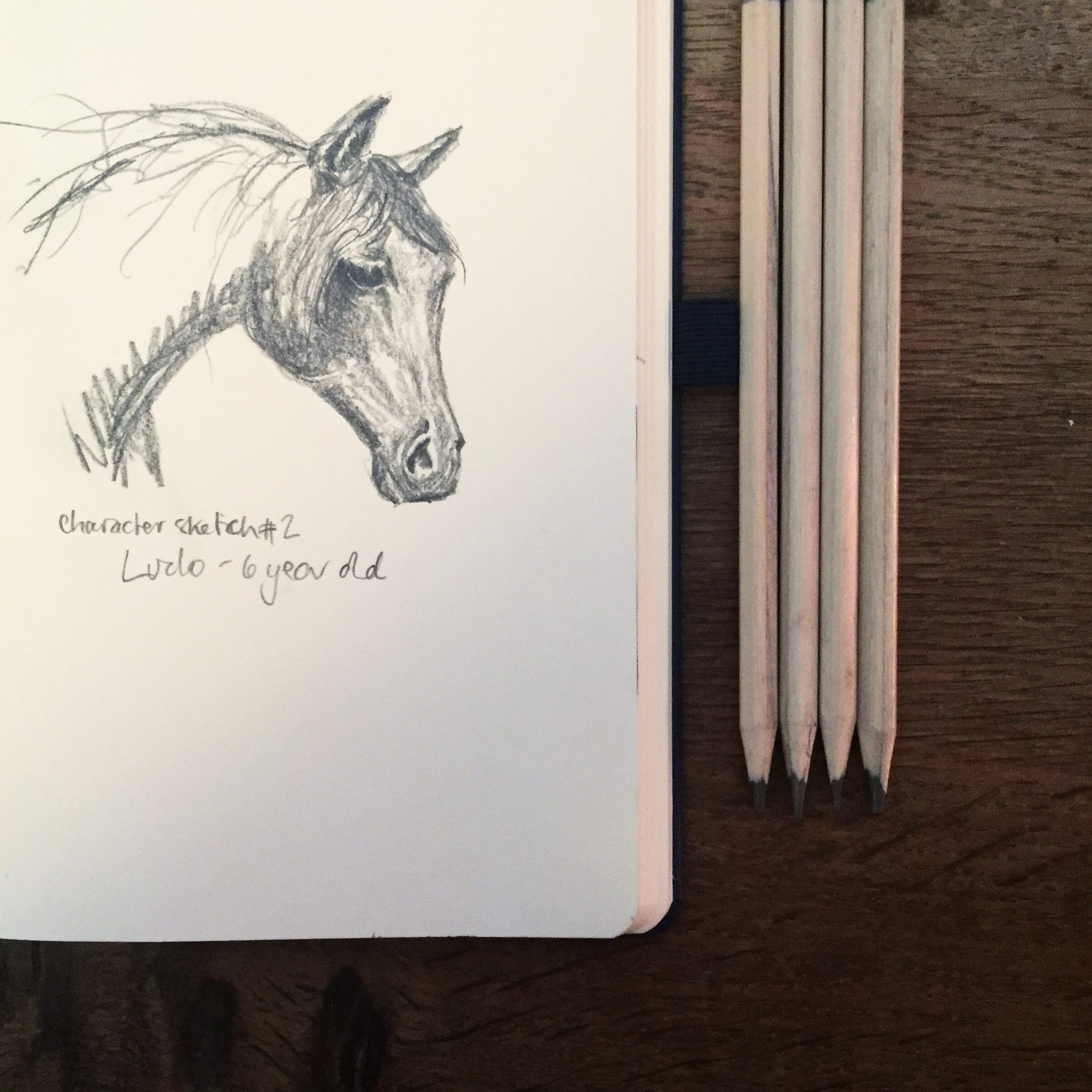 I was writing a book I loved, which was more complex than anything I'd written before, and it was November, which is my favourite writing time. And I was writing about horses, which are one of my favourite things to write about. So I sketched the characters, and I shared my word count progress with my author friends, and daydreamed about my imaginary people. I'd spent half term in a farmhouse halfway up a hill in Wales and the setting was so perfect that I could feel it all as I wrote it into my story. It was all very lovely.
And then I made a mistake.
Sometimes ideas are like tiny little wisps of smoke cupped in your hands. Open them up to show someone, and they just curl away and disappear.
I'm sure it was lovely the someone says. Show me when you've got some more.
But they look a bit dubious, and you start to wonder if you perhaps imagined there was a swirl of smoke and actually there was nothing there at all. So you dust your hands off on your jumper, and go back to the desk and try and create some more.
And then it doesn't happen.
(My therapist would point out that when I started talking about the tough stuff I switched from I to you, distancing myself. I feel I should point this out, because if I was in a therapy session I would say oh look, here I go again. You're welcome. Bet you wish I'd stick to blogging once a year.)
Anyway. It took me another year to really look at that book again, and then three months after the edit before I could hand it back and feel like I'd done the best I could. It still didn't feel quite finished. Then we did some more work on it, and now it's fully grown and ready to go out into the world. (It's out in February.) And (hi, yes, I have issues) I still haven't sent the final final last check version back, because I'm a neurotic writer. We are so much fun to live with.
It's by far the hardest book I've had to write**, which is funny because I've written about much darker subjects in my YA books. I think it was hard because I showed it to someone when it wasn't ready, and their comment stuck in my head and kept coming back every time I sat down to write. I'm writing this as a note to self, really, because I'm writing two things right now. And I'm writing this as a note to anyone else out there who has Labrador tendencies*** to remind them that you can trust what you're doing. Trust your writing. Don't show it to anyone else until you're ready.
(And if you think you're ready, wait a few days.)
*Blog every day in November. Surprisingly good for getting my brain into writing mode.
**Anyone who writes contemporary romantic fiction* will know that in the first week of publication someone will ask me how I churn these books out. With difficulty, I will say. They won't believe me.
*** You don't need to gallop up to people with half a book in your mouth, tail wagging furiously, and drop it at their feet, panting, and wait to be patted on the head. If you recognise the signs, visit my incredibly wise friend Natalie Lue – she is brilliant.
*thats what we call it now. Yes, I know you're thinking isn't it called something else, but no. We have Moved With The Times. In my next novel there isn't even a romance, and the woman realises that actually she doesn't need love to make her happy and she buggers off to Peru to farm goats.
I'm going to stop talking now. More tomorrow. I bet you can't wait.
PS sorry for the mixed metaphors. It's my day off.
PPS the goat stuff isn't true. Yet.