Yesterday was a 1970s sort of day. Scrambled eggs on toast for breakfast, football in the garden, a couple of hours at Sunday school and making snails (and lots of other creatures) with Plasticine. Oh, and chocolate brownies.
So for those of you who asked after my Silent Sunday post of yesterday, here's the rest of the photos – and the recipe for chocolate brownies (in family-of-six quantities):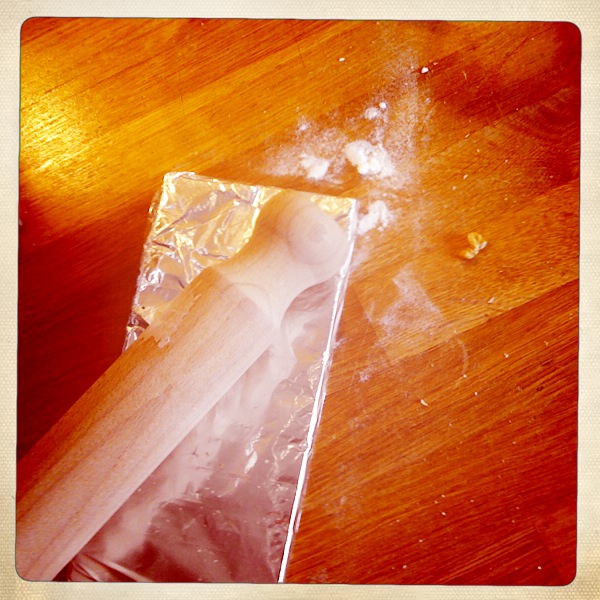 (Any recipe that starts with a whole crushed bar of 85% cocoa solids chocolate is good in my eyes.)
I started off with a Nigella recipe a while back, but I'm not very good at sticking to recipes, so this owes something to the domestic goddess, but is a variation on her theme.
You need:
225g unsalted butter
450g light muscovado sugar
100g cocoa powder
1.5 tsp bicarbonate of soda
6 eggs, beaten
1.5 tsp vanilla extract
225g of chocolate – I use a bar, and then I also add a couple of generous handfuls of chocolate chips. Not measured, not exact. Sometimes instead I add a bar of white chocolate. Beat the chocolate with a rolling pin (very therapeutic, that bit)
200g chopped walnuts. Or not.
You need a brownie tin lined with tin foil – this quantity fills mine, which is a deep 32cm x 20cm.
Preheat the oven to 190 degrees, or 170 if you have a fan oven. Or gas mark 5.
Sift the flour, cocoa powder and bicarb into a large bowl.
Melt the butter, pour in the sugar and stir it until it's blended, then pour it all onto the dry ingredients.
Stir it up, add the beaten egg and vanilla, mix again – you want a smoothish mixture.
Plonk in the chocolate (trying to avoid small chocolate-stealers) and chopped nuts, if you're adding them.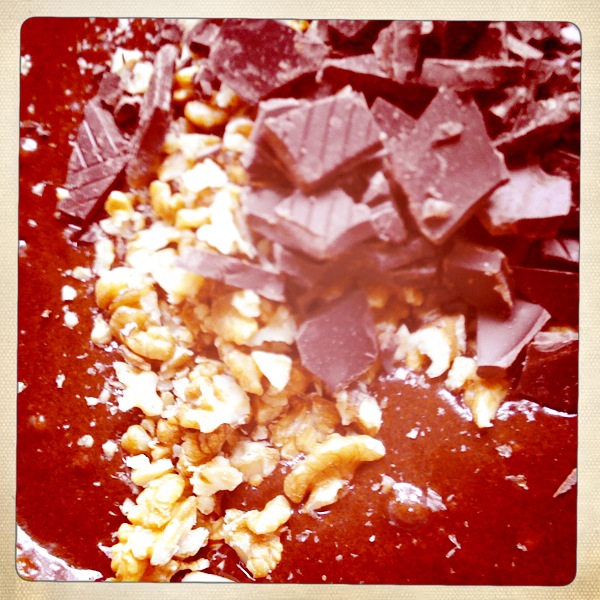 Mix a bit (with obligatory test of mixture – yum)
Splodge it into the tin, spreading it out to cover the base.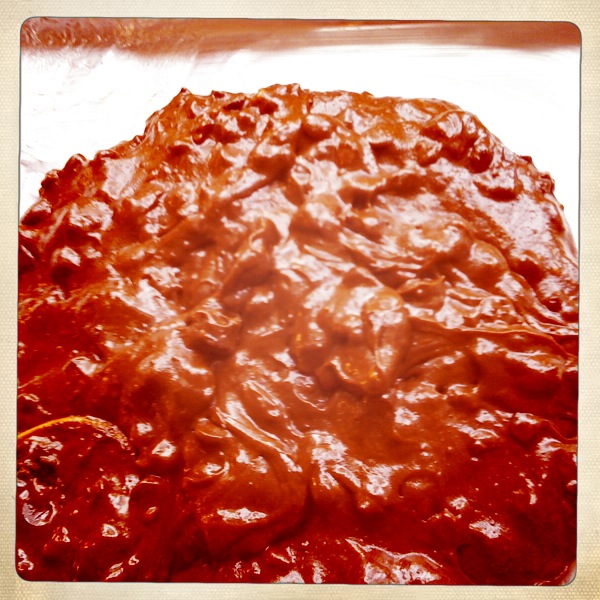 Put in oven for 25-ish minutes, no more. Check after 20. Meanwhile, lick the bowl.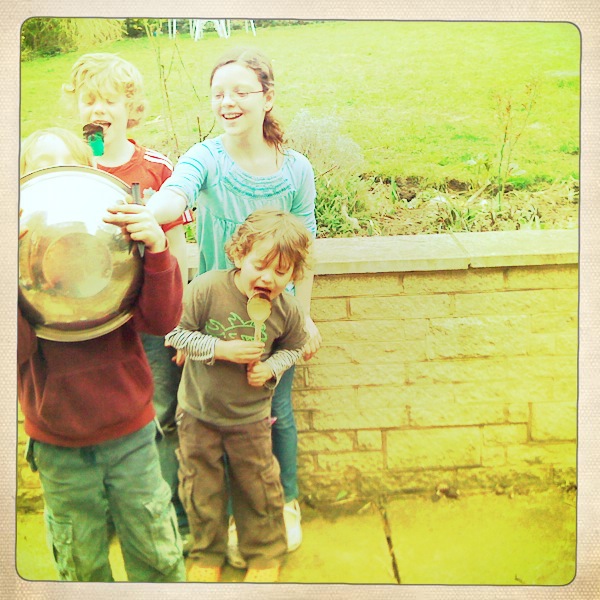 After 20 minutes, check the brownies. They should be set on top but wobbly to the touch. They might need another five minutes. It's a bit of an inexact science – overcook them and they won't be all gooey on the inside, but they'll still be lovely – just a bit more cakey.
Let them cool for ten minutes, then cut them into squares.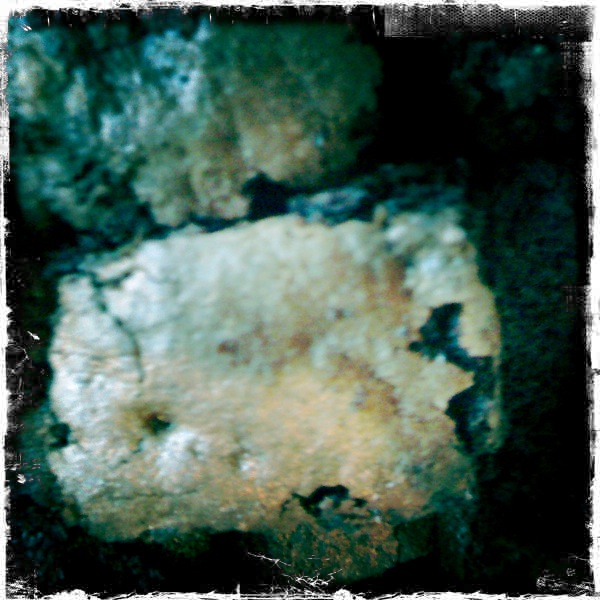 Makes 32. Or 16. Or 8, if you're a giant who likes chocolate brownies.
PS – My friend Karin over at Cafe Bebe is just embarking on a gluten free lifestyle and she'll be baking GF brownies later this week. Pop over for a visit!