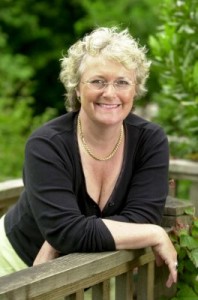 It's very exciting to be doing an author interview with Katie Fforde here at Tales from the Village. I've been a huge fan since her first book, Living Dangerously
was published in 1995. I love her characters because they're real – they make mistakes, they're not all a perfect size ten, they fall over and more often than not they get into scrapes. Plus her romantic heroes are always incredibly swoonsome, which is vital. I love a good swoon when I'm reading.
Katie's also a huge inspiration – she didn't start writing until she was 32, with three small children, and spent five years slaving away before she was published. She's a big fan of Twitter and can be found there doing research (ahem) on a regular basis.
Katie has just published her latest book, A Perfect Proposal
.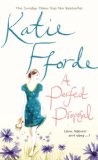 .
She chatted with me by email about her writing, her research, and whether even with 16 novels under your belt you ever feel like a proper writer.
Katie, A Perfect Proposal is set in New York and Connecticut, the first of your books to be set in the USA. Did you travel to the States for research, or is it an area you're already familiar with?
No, I didn't travel to New York or Connecticut for my research. I have been to New York though and was helped by lovely Maggie Dana among others for the Connecticut bit. I thought I wouldn't be able to get into the sort of house I needed, so I looked at estate agents details etc instead.
Do you have a wide reader base in the States?
I don't have all that many readers in the States but the ones I do have are lovely. I am a bit niche really. (US Tales from the Village readers, if you like reading about English country life, do look up Katie's books – they're gorgeous!)
You're chair of the Romantic Novelists' Association, having joined as an unpublished writer. Do you feel like a 'proper' writer now, or do you still have moments of angst and worry that nobody is reading your books?
I don't think many writers feel that they're 'real.' I've got used to it now but I always worry about people not buying my books. I would hate to have to give up before I'm ready!
You're a great fan of Twitter, as are lots of other writers. Do you use it for inspiration there, or is a chance for a bit of an escape when the muse has gone walkabout?
I do love Twitter. Mostly it's a break from writing that doesn't take me away from my desk, which would be a very bad idea, but it's also a great research tool. Ask anything and people respond quickly and helpfully.
You're up and writing incredibly early most mornings. Do you set yourself a target number of words every day, or a certain amount of writing time?
I've been an early riser for a while now. When I first started writing I used to do a lot during the school holidays because I didn't have to stop at 7.30 to get them up. But I used to get up at 4.30 in those days and be a zombie after about 10 am. I try to do 1000 words a day but recently have been doing 2000. It would make my life much easier if I could do 2000 from the beginning of the book and not just towards the end.
Do you have ideas in place for your next book?
I don't know exactly what I'm going to do for my next book although I do have some ideas whizzing round.
So what comes first – characters or plot?
I tend to start with a theme (like auctions, or property development) and then think, what sort of a person would do that? Then I think about the love story, and how I can make it different. (Very hard!) It builds up from there. When I think I've got enough elements I work out where to start. Then I start.
……
Inspired yet? I find it really fascinating reading about how some of my favourite writers work. If you missed my interview with Julia Williams do have a read.
I have more author interviews coming up soon – make sure you don't miss them by subscribing, either by RSS feed or by filling in the email updates box.