When Jump by the lovely Jilly Cooper was released, I rushed (in the manner of a Jilly heroine) to the shops to buy a copy. I put it to one side, in a delaying-gratification sort of way, and somehow (I have an excuse – I was writing a book) several months passed.
This morning on the way to school we were chatting about books. No2 child is reading Harry Potter and the Prisoner of Azkaban, and explained to no1 that he was on page 11, 'but nothing much is happening really, yet, so it's a bit dull.' No1 child said 'Ah, you see I think that's why J.K. Rowling is so successful, because all of her books are a bit like that. They start off really boring, but if you keep going they get good.'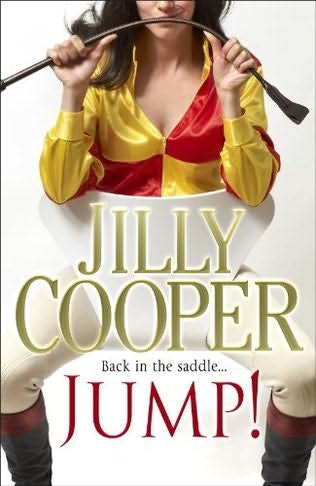 Mmm, I thought. Jilly Cooper is my favourite writer, ever. But she too has a habit of writing books which take a while to get into. I suppose when you're a bestselling author you can do that. Her latest novel, Jump! is based in the world of horse-racing. I spent quite a long time – probably the first third of the book – waiting to be gripped. The main character, Etta Bancroft, is very nice, but a bit of a weed. That's a bit unfair, I suppose. She's spent years being squashed by a horrible man and her vile children. But I wanted to jump into the pages and give her a shake. She does improve, I am happy to say, and it is very lovely to have a main character who isn't a lithe young goddess of foxitude. And as ever, Jilly's characters are beautifully drawn, both human and animal. It's a testament to her writing (Jilly's books are right up there on my comfort reading list that characters she first wrote years ago (Rupert Campbell-Black and Billy and Janey Lloyd-Foxe) have stayed so alive that when she brings them back into the story, they are real and not just cardboard cut-outs.
There is a strong focus on the world of racing, which Jilly has researched thoroughly, and her depictions of the highs and lows of a training yard are wonderful. It's a bit like a Pullein-Thompson for grown-ups, really, and I can imagine that the numbers of people joining racing syndicates will be rising like – well, if I were Jilly I'd make a naughty pun here, but I won't. Nobody does them quite like Jilly Cooper.
There's a point about three-quarters of the way through where she dashes through a fairly long period of time in about a chapter. I felt she was going 'come on, come on' and dying to get to the next part – and when it happens, well, you can see why. You'll have to read the book to see what I mean, but when old blue eyes comes back on the scene, Jilly's writing picks up with the verve and wit for which she is known. Every word is a delight. And when Jilly does death, she does it beautifully. I cried buckets (again in the manner of a Jilly heroine), and had to stop for a cup of tea and compose myself.
Jump! by Jilly Cooper – it's a litte bit slow out of the starting gates, but finds its feet and races to the finish, leaving the rest of the pack standing*.
*I'm sorry, I couldn't resist that