Self published author shares her secrets

Self published author, Elle Field, has hit the no1 spot this week in the much-desired Amazon US Kindle bestseller list – pretty impressive. Look out America, the British are coming…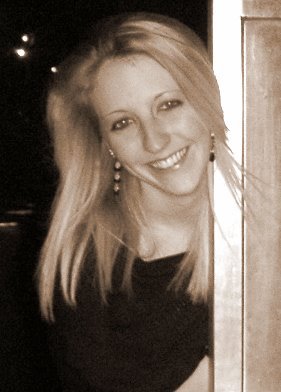 from Elle herself –
I would have scoffed in disbelief if you had told me 11 months ago at the start of my self publishing career that I would be #1 in the Amazon.com free Best Sellers chart. That's the position I found myself in though, just a few days ago, and I'm utterly thrilled that so many people have downloaded my debut novel Kept. It really is a dream come true.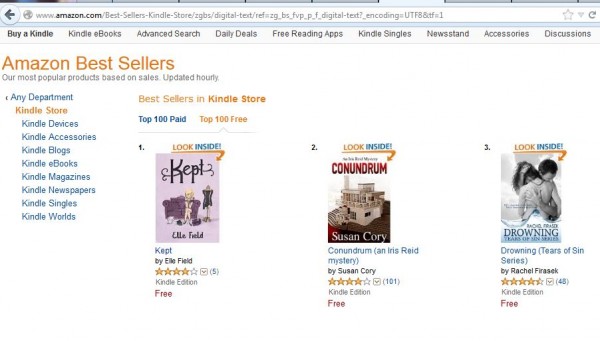 Being a self published author is something I love, but it can be exhausting. You're not just a writer; sometimes it can seem that writing the book is actually the easiest part of the job! You also need to edit it, organise the book cover and promotional side of things, as well as dealing with tax issues and so much more.
The only person setting you a deadline as a self-published author is you. Whilst it's important to be strict with yourself if you are doing everything yourself – probably alongside a day job, not to mention you want some kind of social life – it's OK to give yourself a break every now and then. Life happens, and sometimes that's just dandy.
Kept, for example, was published in late April last year. I received the final copy edit back from my editor at the start of February, and I had every intention of turning around her remarks in just two weeks so I could publish Kept at the end of February. What I didn't count on was coming down with crippling flu, semi-recovering, only to come down with crippling flu again. Sometimes you just have to roll with the punches!
When I did hit publish, I hadn't thought about my marketing with everything else that was going on. Shameful! For my next book though, Geli Voyante's Hot or Not, I had a set in stone publishing date of October and I started working on the marketing in July. One thing I've found is that you definitely learn as you go along, and also as you start to network with other self-published authors. Life is definitely a little easier with a friendly helping hand, or two, along the way.
I suppose that's the one thing that I value the most, the support of the self-published community. I've connected with some brilliant authors and bloggers – their support is invaluable to me – there's a real community out there. Being a part of it is both inspiring and motivating.
It might take you six months to self-publish your novel or it might take you six years. If you give up though, it never will – you just need to stick at it, even if there are days where you feel like you're juggling sixty things in the air. Believe me, we are all having those days!
Good luck to all those aspiring self-published authors, and I can't wait to see you out there on Amazon, on Kobo and so on – there's plenty of room for all of us. 🙂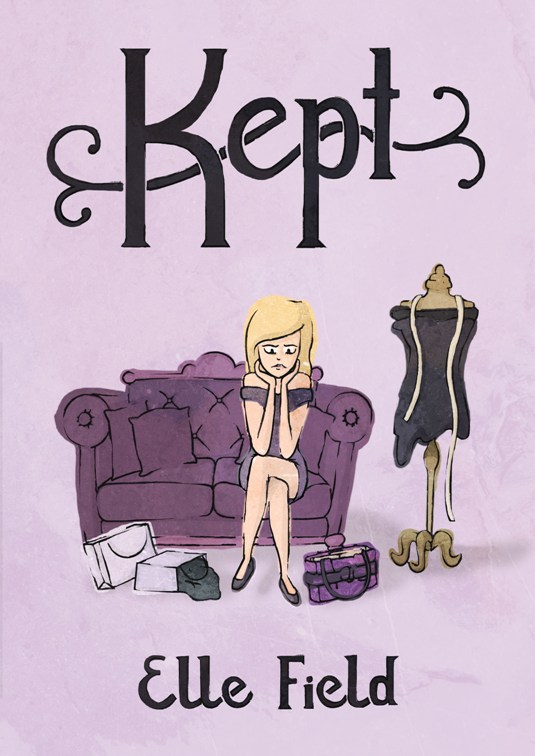 Kept
Elle Field's fab and quirky debut novel Kept, self published last April, made it to #1 in the Amazon.com Best Sellers (free) chart this week, as well as #1 in the Literature & Fiction, Women's Fiction, Romance and Humorous Fiction categories . It also reached #5 in the Canadian Best Sellers chart and #13 in Australia.
This was the last time Kept will ever be free on Amazon but, to celebrate the huge demand, Kept will now be available for the next five days at the bargain price of 99p/99 cents for all those who didn't get their free download. With an average rating of 4.5/5 on Amazon.co.uk,
you need to read this book!
As a thank you to all those who help to spread the word about this, make sure you enter yourself into Elle's giveaway for your chance to win one of six Amazon vouchers or a signed copy of one of Elle's books.
Kept's sequel – Lost – will be out in summer 2014, but if you fancy reading another fabulous novel by Elle Field before then, Geli Voyante's Hot or Not is available worldwide on Amazon in Kindle and paperback formats.
About Kept
'Did she really just say that? I am fifteen again, except the reality is I am experiencing full parental horror, aged twenty-five. I want to die.'
Life hasn't quite worked out how Arielle Lockley imagined it would. Becoming the next Coco Chanel was always her childhood dream, but she's spent the past four years living a dizzying whirl of glitzy parties, luxurious holidays and daily shopping sprees – all paid for by boyfriend Piers – and not doing anything to make her Coco dreams happen.
When the recession hits, it's not just the economy that takes a tumble and Arielle finds herself living back with her parents, on bad terms with Piers, and having a CV that's as welcome as a pair of knock-off Jimmy Choos. And maybe it's the location, but she's also finding unwelcome thoughts of her childhood sweetheart are popping into her head…
What's a girl to do? Can Arielle figure out what it is she now wants to do with her life and move on, or will she be doomed to spend the rest of her life dwelling over her worst mistakes, stuck listening to her parents' embarrassing dinner table talk each night?
About Elle
Elle Field is a twenty-something chick lit author who lives in London with her boyfriend. She enjoys exploring and photographing Blighty's capital, seeing far too many musicals, and eating her way around London's culinary delights.
Her first self published novel Kept was released in April 2013; Geli Voyante's Hot or Not followed in October 2013. Look out for Kept's sequel, Lost, in Summer 2014
Read her blog at ElleField.co.uk, follow her on Twitter: @ellefie and find her on Facebook: ElleFieldAuthor
Buy it here: Amazon UK
Amazon.com